STRAIGHT HAIR Everything you need to know about straight hair
If you have been blessed with fairly straight hair, then you are lucky and the envy of many women (myself included). Thick hair that is mostly straight, with maybe a slight wave is usually the easiest hair to style. Your natural wave loves to be curled and styled, and yet is easy to straighten and looks fabulous worn straight.
Women with tight curly hair, or fine, dead straight hair that has little body and refuses to hold curl (yes, that's me!) struggle to style our hair at times.
If your hair is not quite as straight as you want it, you have some easy options to temporarily straighten your hair: straightening products, hair dryer or straightening iron .
If your hair is really not straight and you want to get rid of your curl permanently (well, at least 6 months), you have the option of professionally straightening your hair.

HOW TO BLOW DRY HAIR STRAIGHT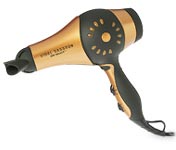 Blowdrying your hair straight is definitely the cheaper option to permanently straightening your hair - all it takes is a few tools and products and a bit of practice.

What do I need?
- A hairdryer
- A large round brush . The size of the brush will depend on the length of your hair - your hair needs to be long enough to wrap around the brush once.
- A large paddle brush for final smoothing.
- Clips to keep hair out of the way. Large flat clips that hairdressers use work best.
- Styling products - products that protect your hair from moisture and hold the style. Moisture is what reverts the hair back to its natural wave, so products like mousse protect hair from moisture as well as heat damage.
- Gloss or serum to smooth over hair, remove frizz and finish off the look.
Start by washing your hair with a volumising range . Browse our Volumising range.


Comb with a wide-toothed comb to remove any tangles. Partially blow-dry your hair to get rid of excess moisture.


Spray a volumising tonic on your hair, or a handful of mousse spread from tips to ends for extra oomph.


Pin hair up and take out small sections at a time to blow-dry. Hold the dryer in one hand and a styling brush in the other.


Place the brush underneath the first section of hair and position it at the roots. Keep the tension on the hair (without tugging too hard) and move the brush down towards the ends, while directing the air flow down the hair, following the movement of the brush.


Blow-dry using a large, round brush with a metal core. Wind hair completely up the brush, focusing on creating lift at the roots. Gently blast hair with a hair-dryer until dry.
Browse our range of Hairdryers .


Curl the brush under at the ends to achieve a slight bend. Continue until the back sections are completely dry and then repeat on the top sections of hair.


Finish with a light, flexible hairspray . Browse our range of HairSprays .


Remember, practice makes perfect!

HOW TO USE A STRAIGHTENING IRON
What do I need?
- A temperature controlled straightening iron
- Styling products - products that protect your hair from moisture and hold the style. Moisture is what reverts the hair back to its natural wave, so products like mousse protect hair from moisture as well as heat damage.

Things to remember:
Also start with clean, DRY hair. If possible, use a leave-in conditioning spray after washing your hair, but before starting to straighten.
Hair must be completely dry , as slightly damp hair will respond badly to straightening. Also using a heated appliance on damp hair causes the hair to "cook" from the steaming, swelling the hair shaft and forcing the protective moisture from the cortex of the hair.
Use a flat iron appropriate for your hair length. Wider irons are suitable for very long hair, but most women are better off using an appliance with heating plates 1" to 1 ½ " wide. These smaller irons offer better control and are lighter in weight.
Section your hair into small, manageable sections. If you try and straighten a big chunk of hair at once, you will get an uneven result. The hair on the outside might straighten but hair in the middle won't have been straightened. Work on smaller sections and you will get a much straighter look.
Use a small amount of styling product to maintain the style. Using a spray of hairspray on the straightened sections, or a small amount of mousse or gel when drying your hair, will extend the life of your hair style. Your straightened hair will last longer.
Instructions
Take a small section of hair. Starting at the roots, work the flat iron through the length of your hair slowly, but keep the iron moving.
After each draw, comb your hair smooth.
Continue, piece by piece until all of your hair is straight.

PROFESSIONAL HAIR STRAIGHTENING
Permanent Straightening
What is it? It's a perm that improves the condition of the hair as it straightens it. There are a few names for it - Bio Ionic Professional Haircare System , Japanese Ionic Hair Straightening - yet they are all the same.
How does it work? First a treatment to prep your hair. Next, a setting solution. Then a rinse and light dry off before hours of flat-iron work. After this, you have straight hair. They rinse again and apply a solution so your hair remembers to stay straight. A quick dry off and iron and you're done. But no washing your hair for two days.
What hair types are (most) suitable? Those with thick, healthy, unbleached hair are the best candidates.
Which hair types are not suitable? Fine, weak or dry hair or hair that is overly processed/colored. However there are lotions that cater to variations in strength and thickness, meaning those with fine but strong hair can still get the treatment.
How long does it take? Usually about five hours. If the hair is very thick, curly or long it can take up to 10 or 11 hours.
How much does it cost? It can range anywhere from $150 to $1000 depending on the salon and the particular solutions being used (ie Bio Ionic is more expensive than Japanese solutions)
Some quick-fixes include using permanent straighteners and relaxers- most of which you can find in supermarkets and drug stores to apply in your own home.
A relaxer is best suited for people who have hair that is especially difficult to style. This usually applies to people of African or Caribbean descent who have coarse and frizzy hair. The relaxer is a strong chemical substance that is applied to dry hair and then left on the hair anywhere from 15 to 45 minutes. The relaxer works chemically with the composition of your hair, weighing it down in certain areas and removing curls. Relaxers must be reapplied to new hair growth.